Indoor Home Elevators
DAY Elevator & Lift is a New York based elevator company, providing an attractive and impressive range of indoor home elevators of premium makes. Our quality mobility devices add more value and convenience to your home. Superior craftsmanship and elegant designs set apart the elevator models we supply.
Indoor
Home Elevators
with Unique Advancements

Our residential elevators are from the industry's top manufacturers including ThyssenKrupp Access, Savaria and Federal Elevator. Each system is designed with excellent flexibility to ensure safe and comfortable access to all levels of your home. They come with easy installation features, and are free from manufacturing defects. All safety features including in-car phone, emergency stop switch, safety interlocks and emergency alarms are part of all quality indoor home elevators we provide.

Browse our indoor home elevator section and pick the model that blends well with your interiors: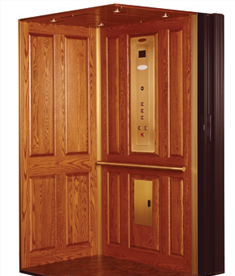 Timely and Reliable After-sales Services
Customer service is paramount at DAY Elevator & Lift. Quality installation, repair and maintenance services are provided for all our indoor home elevators. Our services are now made available in the Tri-State area comprising New York, New Jersey and Connecticut.

Fill out our free online consultation form today for a complimentary consultation. To buy any of our quality elevators for your home, contact us at our toll free number 1-800-758-5438 or send an email to sales@dayelevator.com.
* For all home elevators purchased for medical necessity, please call us for special pricing on our home elevators used for medical necessity. We offer special rates on home elevators required for medical necessity.