Certified Pre-Owned Home Elevators
DAY Elevator & Lift offers a wide variety of certified pre-owned home elevators. We deal in elevators from several manufacturers including ThyssenKrupp Access, Savaria, and Federal Elevator. We take pride in our "service-oriented" culture and serve customers in the Tri-State area of New York, New Jersey, and Connecticut.

If you are looking for premium brand home elevators, dial (800)758-5438 or send an email to sales@dayelevator.com.
Easy and Safe Movement between Floors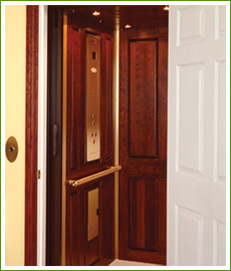 Choose from different colors, designs, and load capacities of residential elevators. Our reliable elevators offer convenient and safe movement from one floor to another. We have models to suit different architectural constructions and even space limitations. The used elevators that we buy are refurbished by our expert technicians and in perfect working condition before they are certified for sale.
Used Elevators
with Admirable Safety Features

Our certified elevators have a number of admirable safety features. These include:
Lockable auxiliary disconnect for car lighting circuit
Lockable auxiliary disconnect for drive unit circuit
Upper and lower terminal limits
Final limits
Pit switch and car top stop switch
Battery backup emergency light and alarm
Car gate safety switch
In-car telephone
Emergency stop button
DAY offers excellent repair and maintenance solutions such as 24 hour on-call service, maintenance contracts, and spare part replacement. Besides certified pre-owned home elevators, we offer certified pre-owned stair lifts and other accessibility solutions.
* For all home elevators purchased for medical necessity, please call us for special pricing on our home elevators used for medical necessity. We offer special rates on home elevators required for medical necessity.