Elevator Contractors
Elevators are great investments for your homes. DAY Elevator & Lift, one of the leading elevator companies in the US, offers home elevators of premium brands. For the past many years, we have been in the field providing comprehensive accessibility solutions for homeowners, builders/architects, contractors, and designers. Our quality services are available throughout the Tri-State area of New York, New Jersey and Connecticut.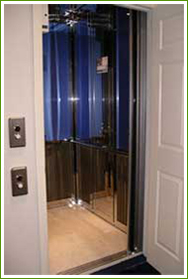 Name Brand
Home Elevators
for Contractors

We are committed to providing reliable products and services, at competitive pricings. As professional elevator company, we make available home elevators from the industry's most respected elevator manufacturers including ThyssenKrupp Access, Savaria and Federal Elevators. Browse our impressive range of home elevators to find one that appeals to you and is ideal to meet your particular requirements.

Home elevators offered by DAY ensure a quiet, comfortable and safe ride between the various levels of your home. We have attractive models of residential elevators for indoor and outdoor purposes. These are products of exceptional value, known for their durability and reliability. We help elevator contractors choose the models that rightly match your building architecture and even customize them to meet any specific needs.

Enjoy Quality Inspection and Maintenance Services

At our elevator company we take care of everything from initial installation and repair to maintenance services of the elevators you buy from us. We have a dedicated team of professionals, highly skilled and well-trained in delivering flawless services. Our maintenance program also includes periodic check-ups to ensure the proper functioning of your elevators.

Get in Touch with Us

Contact DAY Elevator & Lift on phone at 1-800-758-5438, or send an email to sales@dayelevator.com. Fill out the free consultation form to schedule a free initial consultation.

* For all home elevators purchased for medical necessity, please call us for special pricing on our home elevators used for medical necessity. We offer special rates on home elevators required for medical necessity.